DELIVERY AVAILABLE Saturday through Tuesday. $100 minimum order
FREE DELIVERY FOR SENIOR AND STAY AT HOME CUSTOMERS - NO MINIMUM CHARGE
TO RESERVE OR HOLD YOUR PRODUCTS, PLEASE
Call or Text me at 415-505-3023 BEFORE 10 p.m. on FRIDAYS
Weekly Menu & Chef's Suggestions
December 3-4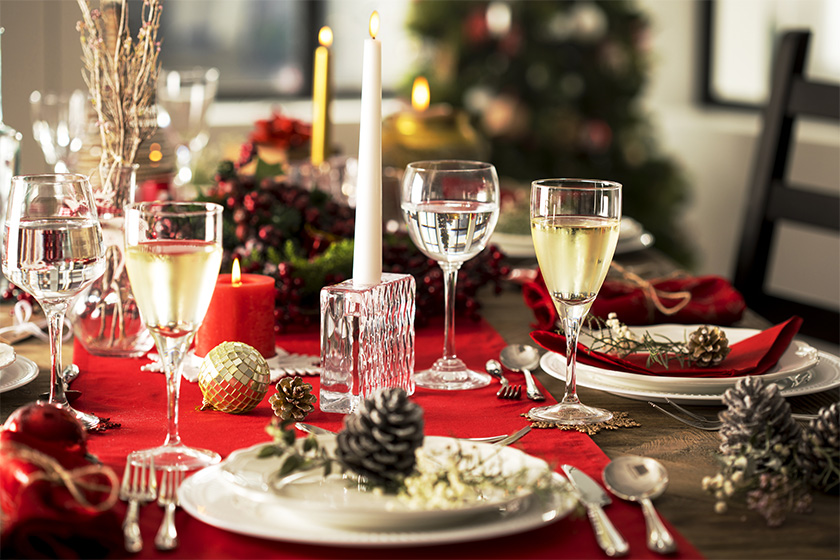 Happy Holidays!
The fun begins now with a delicious NEW soup!
GREEN SPLIT PEA & SMOKED HAM
This soup is a beautiful and updated version of an old childhood favorite of mine. Luxurious and velvety, yet dairy free and light, and so comforting, made with my chicken bone broth, green split peas and tons of fresh vegetables and herbs.
Place your orders now for these two lovely meals for a romantic dinner for two, or stock up and entertain family and friends during the Christmas and New Year's weekends.
They freeze and thaw beautifully.
Available December 10-11
MOROCCAN LAMB TAGINE WITH COUSCOUS (Entrée for Two)
Succulent lamb shoulder morsels cooked in a savory Moroccan sauce with Moroccan spices, olives & house made preserved lemons.
Available at the CHRISTMAS MARKET December 17-18
FRENCH DUCK CONFIT CASSOULET
Beautiful and classic dish made with my scrumptious duck confit and traditional French garlic sausage (Entrée for Two)
And don't forget…
Vegan Brazilian Feijoada makes a beautiful and elegant appetizer or side dish and it is sure to please everybody, vegan or otherwise.
Cranberry Sauce with Dried Fruits, Nuts and Pinot Noir Reduction is a lovely accompaniment to turkey or lamb, and for appetizer with beautiful robust cheeses like Stilton.
To order/reserve these delights – Call or Text me at 415-505-3023 BEFORE 10 p.m. on FRIDAYS♥
NOTE: I will be closed at both markets the weekends of December 24-25 and December 31-January 1;
returning January 7-8, 2023.
To order and reserve your favorite soups for Christmas and New Year's Eve – Call or Text me at 415-505-3023 before 10pm on Fridays.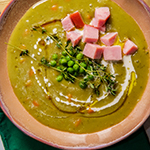 GREEN SPLIT PEA & SMOKED HAM (Dairy free)
This soup is a beautiful and updated version of an old childhood favorite of mine. Luxurious and velvety, yet dairy free and light, and so comforting, made with my chicken bone broth, green split peas and tons of fresh vegetables and herbs. The slightly salty smoked ham is a perfect compliment to the sweetness of the split peas. The ham is pasture raised, 100% naturally cured and no sugars added. Additional English sweet peas, sliced carrots and chopped smoked ham make this a yummy and satisfying one bowl meal. Don't forget the hot bread!
Chef's Suggestions
Heat soup, pour in serving bowls, top with chopped fresh parsley or chives (my favorite💜).
For extra decadence, add a drizzle of crème fraiche, sour cream or regular cream, then top w chopped fresh herbs, chopped smoked ham, sweet English peas and sliced carrots make this a complete and hearty meal.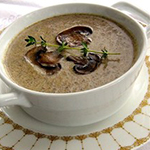 WILD MUSHROOMS (Contains Dairy: Ghee)
My top seller. The fresh wild mushrooms & the rich beef bone broth make a magical union in this richly delicious soup. An anti-inflammatory soup, a great way to enhance protein intake w/out heaviness of meats.
Chef's Suggestions
Use as sauce/base for: Pastas, Gourmet Raviolis, Meatballs, Gourmet Sausages. Add sautéed mushrooms, sprinkle with your favorite Truffle products.
Turn into a BEEF STROGANOFF (or Chicken) by: searing small pieces of sirloin or filet mignon, onions, garlic. Use mushroom soup as sauce to cook meat mixture. When done, add Dijon mustard and crème fraiche or sour cream, top with chopped fresh parsley. Serve over rice or buttered egg noodles. Don't forget salt & pepper!
Sauté your favorite combination of mushrooms and add to your mushroom soup or mushroom sauce.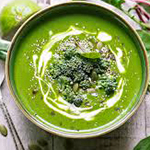 VEGAN SEASONAL GREENS
My #2 all-time best seller. If you love cilantro & the bright notes of citrus, you will LOVE this soup. Richly packed with benefits of deep dark greens, this soup is all you need to get your daily serving of vegetables. Anything more is, of course, a healthful bonus. This delicious soup is amazing for a cleanse and detox!
Chef's Suggestions
Enjoy COLD as a savory mid-morning energy shake or with a dollop of Greek Yoghurt and diced cucumbers.
Enjoy HOT with a side of avocado toast, or add your fresh leftovers of any meats, legumes, greens and heat through. Optional to top with a sprinkle of Parmesan.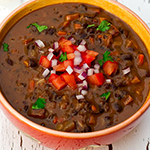 VEGAN BRAZILIAN FEIJOADA​
This is my vegan version of a traditional Brazilian street food made with offal parts of beef and pork. This vegan version is so flavor packed, rich & thick that you will never miss the meat. If you do, see my serving suggestions for a real Cowboy dinner.
Chef's Suggestions
The Brazilian Feijoada is an party in a bowl. Enjoy it hot or cold.
Enjoy it by topping it with chopped cilantro, tortilla chips, grated cheese, sliced jalapeños, sliced radishes, diced avocados, tomatoes, fresh onions.
And, my favorite way to have the Fejoada is with some buttery basmati rice.
For the ultimate "Cowboy Feast", add sliced grilled steak, chicken or prawns to the Fejoada with Basmati rice.
Top with chopped fresh cilantro.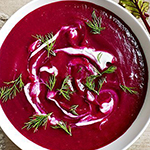 VEGAN BEET & POMEGRANATE W/COCONUT
Stunning color and flavor, make this soup red beet and coconut heaven. The flavor profile will take you straight to Thailand.
Chef's Suggestions
1) Enjoy COLD as a Gazpacho. Optional to add a drizzle of Greek Yoghurt or Coconut Cream.
2) Enjoy HOT. Top with a drizzle of coconut chips or coconut cream.
3) Use as a sauce for an Asian inspired stir fry: Dice your favorite meat or chicken & veggies. Sauté Asian style on high heat, meats first, then veggies. Use soup as sauce at the very end. Heat through and serve over a bowl of coconut rice or Asian noodles, top with fresh cilantro.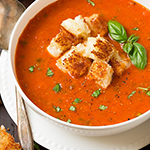 TOMATO BASIL
The freshness of early girl tomatoes & fresh basil are magical. A true testament that tomato basil soup does not need sugar, flour and cream to be out of this world!
Chef's Suggestions
Use as sauce/base for: Pastas, Lasagna, Gourmet Raviolis or Sausages/Meatballs.
Turn into your favorite Minestrone by adding your favorite pastinas, veggies or legumes.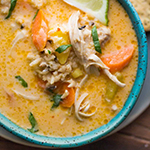 Thai Coconut Chicken with Wild Rice
Our usual chicken bone broth enriched with the nutrition and aromas of Thai curry, Ginger, lemongrass and kaffir lime leaves. Coconut milk and flesh add luxurious velvetiness without all the fat.
Chef's Suggestions
Add dice of Persian cucumbers, nectarines, peaches, berries.... to add some texture.
Enjoy with a side of Grilled Cheese or Grilled Ham/Prosciutto & Cheese sandwich.
Top with a lemony shrimp or crab salad with fresh herbs.
Top with bbq'd/grilled prawn or chicken kabobs/brochettes.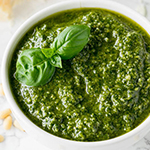 BASIL PESTO GENOVESE
A gorgeous, emerald green emulsion of fresh basil, almonds, garlic, lemon juice and parmesan with extra virgin olive oil.
Chef's Suggestions
1) Enjoy over your favorite Pastas, Gourmet Raviolis, Chicken or Potato Salads.
2) Dilute with some EVOO and use as marinade on chicken, prawns or veggies before barbecuing/grilling.
3) Use as sauce for homemade Pizza and top with your favorite toppings.
4) Grill veggies and while hot, toss with the pesto and serve.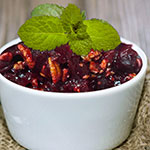 CRANBERRY SAUCE WITH DRIED FRUITS, NUTS AND PINOT NOIR REDUCTION
(Vegan)
Made with cranberries, dried cherries, and pecans, enriched with a Pinot Noir reduction.  Excellent all year round with pork, chicken, duck, and as an appetizer with soft and bold cheeses.
Chef's Suggestions
Cranberry sauce is not just for Thanksgiving anymore.
Enjoy it all through winter as a beautiful appetizer with lovely gourmet cheeses on crostini.
Delicious with a nice roast leg of lamb.
Make your chicken or turkey sandwich extra special.

100% Organic Baby Food
Available this weekend Saturday & Sunday, March 19 & 20
Saturdays, 9 am – 2 pm | Marin Country Mart at Larkspur Landing
Sundays, 8 am – 1 pm | Marin Civic Center
NO: salt, sugars or added flours or thickeners. Free of Metals, Additives, Preservatives. NON GMO.

Waste Free: No more tubes and tiny bottles!

BPA Free & FDA Approved Recyclable Containers & Freezing Trays
DELIVERY AVAILABLE Saturday through Tuesday.
Minimum $100 purchase, combine organic baby food, soups, and sauces in the same order and get convenient delivery.
FREE DELIVERY FOR SENIOR AND STAY AT HOME CUSTOMERS - NO MINIMUM CHARGE